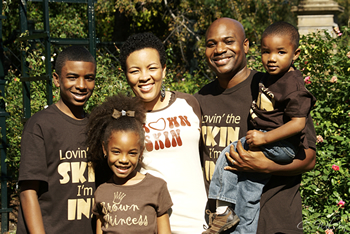 Brown Baby Design is a family owned and operated business, founded by mompreneur, Tameka Prude Selders.  As a mommy of three, elementary educator, and wife of a clinical psychologist, Tameka witnessed first-hand the many struggles brown children experienced due to personal identity and self-esteem issues.  While anticipating the birth of her only daughter, she began to journal ideas of possible projects to uplift and celebrate the African American child.  In addition to writing and illustrating books, she dreamed of launching a children's clothing and educational products company, specifically targeting African-American families.  After years of planning, writing, and sketching, Tameka's dreams came to fruition, and in 2009, Brown Baby Design was launched in the garage of the Selders Home.
Today, Brown Baby Design is a thriving brand, with an inventory offering hundreds of original, copyrighted designs, promotional products, and custom print options.  Tameka and her Brown Baby designs have been spotlighted across the country in many publications and venues including ESSENCEFest, essence.com, MegaFest, Nappiology, Taliah Waajid World Natural Hair Show, Everything She, and The Griot.
Our Mission: Why We Do What We Do
Parents of brown children have experienced a very limited availability of products specifically created for their children. Whether it's a doll or super hero figure, the odds of finding one that resembles a brown child are quite slim. Many markets target African Americans, but very seldom in the positive, affirming, and educational way we desire. This phenomenon often forces parents to settle for what's available and support companies whose messages do not align with their goals for their children, ultimately impacting what our children believe and embrace about themselves. Instead of constantly complaining about the problem, we chose to be part of the solution by creating a positive, affirming, and very intentional alternative. The mission of Brown Baby Design is to embrace, celebrate, and affirm the heritage, beauty, intelligence, talent, and overall AWESOMENESS of brown children everywhere. Each piece is created to communicate a very intentional message of self-affirmation, love, and confidence.